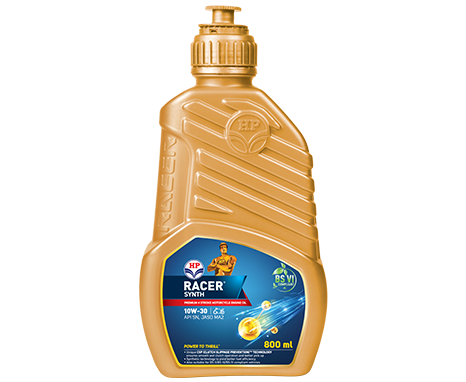 HP RACER SYNTH
Super Premium Quality SyntheticMotorcycle Engine Oil
Detail Description
HP RACER SYNTH grade is a super premium quality motorcycle engine oil formulated on synthetic technology with the most advanced additive chemistry to lead rest of the motorcycle engine oils inthe market.
The synthetic technology in HP RACER SYNTH is the key in providing unmatched Fuel Efficiency, lower oil consumption and superior film strength while lubricating the modern bikes with high power densities and elevated temperatures of operation. The cutting-edge-technology additive chemistry boosts the oil performance in rendering excellent engine cleanliness, high protection to the engine and transmission while ensuring a smooth clutch operation, vital for rapid pick-up.
Application
HP RACER SYNTH grade is available in 10W-30 viscometrics and is recommended for BS VI Compliant new generation fuel efficient geared 4- stroke bikes. HP RACER SYNTH grade far exceeds the requirement of the bikes manufactured by HMSI, Hero MotoCorp, TVS, Bajaj, etc.
Features and Benefits
Suitable for BS VI compliant bikes
Excellent control on engine deposits
Fuel efficiency benefits
Superior protection to gears
Longer engine & oil life
Ensures smooth wet-clutch
Lower oil consumption
Meets or Exceeds Requirement Of
Physico-chemical properties
| HP RACER SYNTH | 10W-30 |
| --- | --- |
| Kinematic Viscosity @ 100°C, cSt | 10.9 |
| Viscosity Index | 145 |
| CCS Viscosity, cP | 5800 @ -250C |
| Flash Point, COC,°C | 200 |
| Pour Point, °C | -39 |
download pdf