HP Impact
HP lubricants besides being the largest lube marketer of India also engages in innovative initiatives towards positive contribution to social and national causes. We're the largest lubricant supplier to the Indian army and engage with our forces at various levels. We've also taken a landmark initiative towards road safety under 'Roads That Honk'.
English
Partnering with Students of IIT Bombay, for an electric car
HP Lubricants is proud to be the lubricant partner of 'EVoX', the electric race car developed by the Students of IIT Bombay. Powered by HP Lubricants Transmission Oil & Brake Fluid, the car will participate in Formula Student 2018.
Handing over of Mobility Aid
The contribution of our Indian Army to the nation is immeasurable. HPCL has handed over Mobility Aids to the Indian Army, as a humble salutation to their indomitable spirits.
Roads that honk
At HP Lubricants, we strive to do all we can to try and create ways to help our customers. One such initiative we created was Roads that Honk. The initiative was created to save lives on steep hairpin bends on mountainous roads. Roads That Honk became the first Indian entry in the Cannes Lions, under the category of innovation, where it won the Bronze.
Driving the youth
Celebrating our country's youth and engaging them to join the national mainstream, HP Lubricants became a part of Jashn-E-Baramulla, a youth festival held in Baramulla, Jammu and Kashmir. The event was filled with spectacular displays by the army, including those of Indian Army Adventure Team, sky diving and para motors display.
A step towards quality assurance
The Indian Army has always been one of HP Lubricants' most valued customers. With the Petroleum Products Testing cum Training lab at Army Services, Corps (ASC) Centre & College Bengaluru, we took our relationship with the Indian Army to a different level altogether.

A Healthier India
As the leader in India's Lubricant market, we understand that there are certain areas in the country that require urgent attention with their sanitary conditions. To help everyone in the country be healthy, HP Lubricants collaborates with M/s Sulabh International for providing toilet in an economically backward area as part of providing healthy sanitary conditions.
Road Safety
Hp Lubricants is committed to the cause of road safety which directly impacts our esteemed customers to travel in various vehicles by roads as a gesture of goodwill and gratitude. We regularly promote messages on road safety in collaboration with police authorities.


Cultural Events at the Frontier
HP Racer is proud to be at the service of our brave BSF Officers and Jawans on our Nation's frontiers by funding such cultural evenings for them.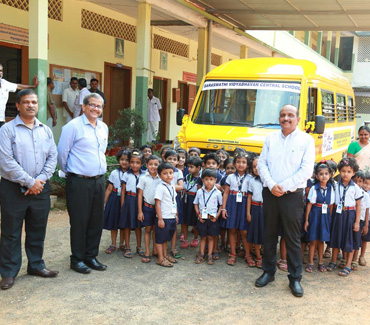 Handing Over of Vehicle at Saraswathy Vidyabhavan Central School
HPCL has made a great leap in the area of CSR by donating Vehicle for transportation of school children at Saraswathy Vidyabhavan Central School, Thodupuzha, Idukki, Kottayam. The Students and the staff have acknowledged the great help extended to them by HPCL in provide this vehicle for commuting.