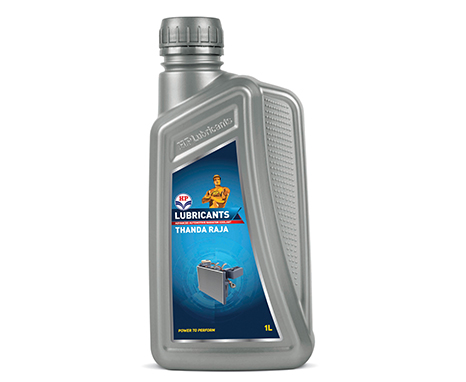 HP THANDA RAJA
Detail Description
HP THANDA RAJA is ready to use radiator coolant with anti freeze & anti corrosive properties.
Meets JIS K 2234-2006 and BIS 5759-2006 Specifications (undiluted).
Recommended for use in cooling system of all Diesel Vehicles, Passenger Cars, Jeeps, Vans & Tempos.
Effecitve cooling
Good chemical stability
Excellent protection against rust & corrosion
Physico-chemical properties
HP THANDA RAJA can be directly poured in the radiators of automobiles as it is in ready to use form.
| PROPERTIES | HP THANDA RAJA |
| --- | --- |
| Appearance | Bright and Clear |
| Colour | Green |
| Freezing Temp, °C, Max | -14.5 |
| pH of original Liquor | 7.5 – 9.0 |
| Boiling Point, °C Original Liquor , Min | 103 |
download pdf